15 roses with chocolate cake - Panaji
Saturday, 26 August 2017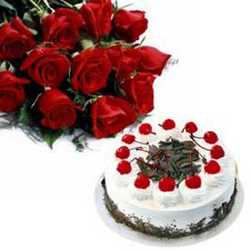 Contacts

Akash Verma

8901013440
Item description
A chocolate cake filled with a chocolate cream and then covered with a layer of chocolate. This would be the perfect gift and like to use any leftover to make chocolate truffles to decorate the top of the cake. Show your loved one how much they mean to you by send them this decent chocolate cake on their special day. Roses symbolize the tender feelings and also an emblem of love.
15 Stem premium red rose bouquet wrapped in cellophane sheet packing.
1 Pound Chocolate Truffle cake.